Signposting
As El Caminito del Rey is in a protected natural area, all signposting has been design according to the Natural Areas Signposting Manual from the Andalucia Council. Furthermore, every indication from the Environmental Agents and the Spanish military police, exercising their duties will be mandatory.
Location sign (big format)
This beautiful area, which hoards historical treasures and gorgeous scenery, lies in the middle of the Province of Málaga, and it is surrounded by the Serranía de Ronda and Antequera. It separates the plains Campillos, Teba and Antequera in the northern part of the province from the Guadalhorce valley and the fields of Cámara in the south.

Different nations have prospered throughout history at this place, which became rich in hydraulic structures and electricity sources especially in the last century. All of them are connected by the humble path called 'El Caminito del Rey' that goes along this natural spot - Desfiladero de los Gaitanes -, in an unbelievable way.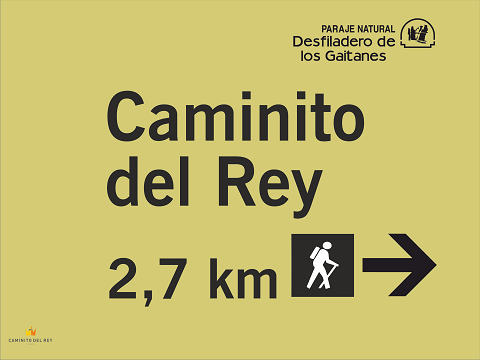 Complimentary signposting
The ones that indicate the start and end of the path through the northern and southern accesses.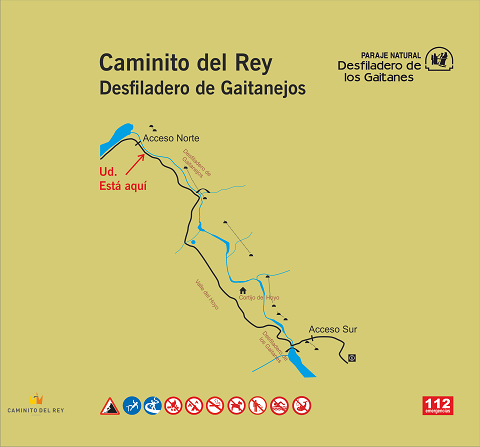 Start/End of path signal
Situated before the entries and exits of the path.

These signals include different logos indicating danger, prohibition or precaution as well as the logos of El Caminito and official institutions.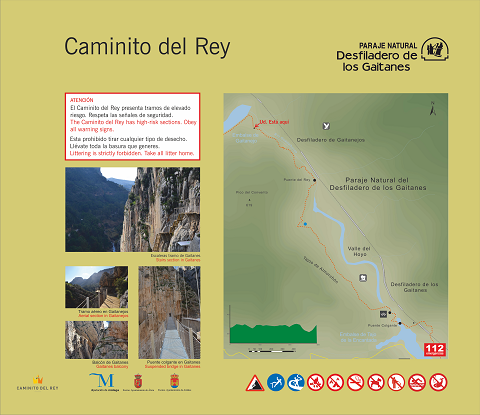 Theme signposting
The ones that refer to the flora, wildlife or native geology.
Public use signposting
These are signs that offer general information in spanish and english about the itinerary and its access points, a map with the distances between each segment, the longitudinal pofile of the route, the reference to the MIDE method, a detailed map of the area with: information points, dams, tunnels, hotels, restaurants, viewpoints, camping sites or roads as well as the place the visitor is at that point. The respective signal is the access one (there are two, Northern access and Southern access)

Starting on the Northern access, the following sections can be seen
Northern Entry/Exit to Gaitanejos
Gaitanejos
El Valle del Hoyo
Gaitanes
Southern Entry/Exit to Gaitanejos